Technology
With the ELLA, ProteinSimple presents the next generation of ELISAs!
Ella's combination of performance and workflow brings your immunoassays to the next level. In just 90 minutes you get highly reproducible validated assay data with no manual steps.
The assay performance behind that data includes sub-picogram level sensitivity, 4+ logs of dynamic range and reproducibility that rivals the best laboratory automation.
All in a compact package that doesn't break your budget or your lab bench.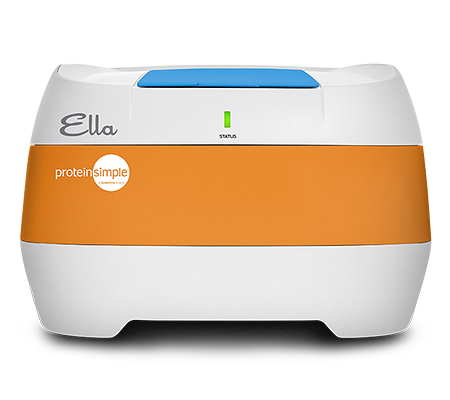 ---
Applications
COVID-19, Inflammation, Cancer, Neuroscience, Cell Therapy, …
Single plex, Multianalyte, Multiplex, Customizable cartridges …
Possible measurements on cell extracts or serum.
Calibrated kits for human (especially plasma) samples are ready to use.
Others (mice or other origines) can still be developed.
Check out the listing : https://www.bio-techne.com/reagents/simple-plex-immunoassays/assay-menu
---

Operating mode
En prestation ou en libre accès après formation.
Pour tout renseignement n'hésitez pas à nous contacter : This email address is being protected from spambots. You need JavaScript enabled to view it.
---

Cost
Ask for a quote: This email address is being protected from spambots. You need JavaScript enabled to view it.